For people who dont know what this is, its a Suzuki GSXR1300 hyabusa. As standard they will do over 200mph and if that quick enough for all you adrenalin junkys out there(like us), They can be tuned by a company called holeshot racing which just about keeps them road legal ;)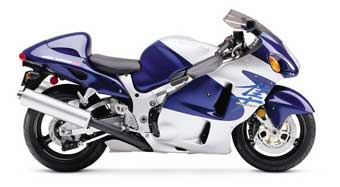 Engine: Water-cooled, across-the-frame, DOHC, 4 cylinder with 16valves, 175bhp@ 9800rpm, This is the standard engine were still waitin for the holeshot racing spec but we belive it has about 350bhp and a TURBO!!!
Performance(standard): 0-60 3.3secs and a top speed of about 230mph as test results vary!